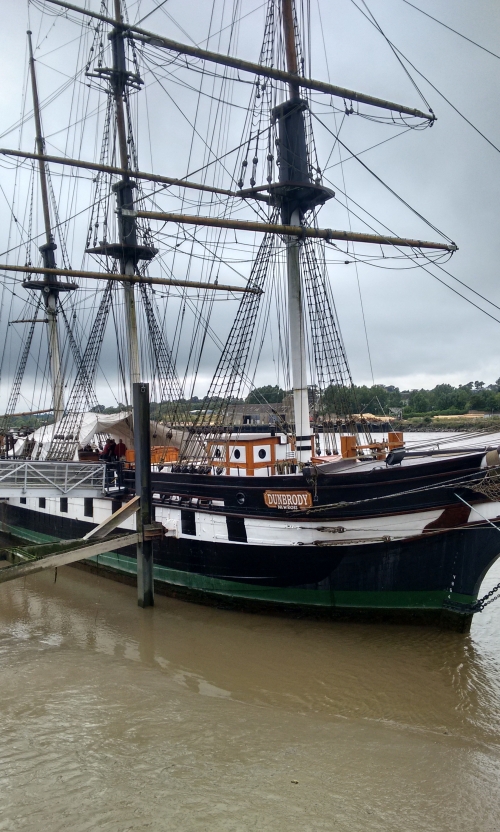 Written by Dr. Linde Lunney, Dictonary of Irish Biography, Royal Irish Academy, Dublin
---
The journey from the north of Ireland to New England in 1718 was not by any means the first migration of people from Ireland to America, but it is probably the first that was organized to bring groups of settlers from one definite catchment area, and importantly, these were people who wanted to continue to live together in the new land, which is an aspect of the whole thing that makes it particularly interesting for us as family historians. The 1718 migration is strongly associated with the Presbyterian element of the community, who wanted to establish a society which recognized their views on how people should organize themselves and worship. Presbyterians in Ireland felt they had much to complain about in the early 1700s; they suffered religious difficulties and legal hindrances and were excluded from many aspects of governance and public life. Perhaps just as importantly, there were economic difficulties as well, with a large number of thirty one years leases falling in and higher rents being demanded. There were grievances to do with English control over exports and duties payable; there was also crop failure, and linen manufacture had become less profitable. Several Presbyterian ministers and elders were the leaders of a group who sailed away from Ireland in summer 1718.
People from the Bann valley in Ireland, and surrounding areas, especially from the Aghadowey congregation of the Rev. James McGregor, and from the Macosquin, Ballymoney and Garvagh areas travelled in five ships to Boston, and in the next year established a settlement that they named Londonderry, in New Hampshire. Others from the first shiploads from Ulster moved, or were moved, to other areas in New England; sometimes in one move, straight from landing, sometimes after sojourning in Boston or elsewhere for a few months first. It is interesting to follow their traces and see how people tried to link up with friends and relatives, even after several years apart. People from the Five Ships also moved to Worcester, Massachusetts, and are said to have been the first to grow the potato in New England. About 1737, a group of people of Scots/Scots Irish origin left Worcester, where once again they were having problems with English origin neighbors, and founded another town fifty miles away, called Coleraine. Settlers there included Morrisons, Hendersons, Cochranes, Hunters, Henrys, Clarks, McClellans Taggarts and McDowells.
These are names that are so strongly linked with Coleraine, co. Londonderry, past and present, that it seems likely that most of these New Hampshire people were indeed natives of the original Coleraine. I grew up in the area that the emigrants left from. When I looked at histories of the early years of New Hampshire I was struck: no, I was staggered to realize how completely the names in early New Hampshire and Maine replicate those round Ballymoney or Garvagh. I realized that those people were close relatives of ours, maintaining as much as they could of the life they had known in the north of Ireland, and I realized that we had forgotten them. The story of the 1718 migration was very little known in Northern Ireland until recently, but the approach of the tercentenary in 2018 is beginning to get people here interested.
Once I started to research these relatives who left, I realized that we can learn a lot about our own family stories by looking across the Atlantic. Every time I look at Edward Parker's
History of Londonderry New Hampshire
, for instance, published in 1851, I find information relevant to family historians in Ireland. Peter Patterson who went to New Hampshire in 1730. Parker's history says Patterson was from the parish of Priestland, town of Glenlace; this must mean the townland of Priestland, parish of Dunluce; Pattersons were a well known family there. So with a bit of local knowledge of places and history in Ireland and Scotland, I can help Patterson descendants in New Hampshire and all points further on throughout America. What is significant for family historians on this Irish side of the Atlantic is that Parker says Peter Patterson's great grandfather was a John Patterson from Argyllshire. Whether this is merely a tradition or perhaps a true record, it is possibly something which has not been passed down to presentday north Antrim Pattersons. It is an example of the kind of material, preserved in America, which might be of great interest to Irish family historians.
The Jameson family provide another interesting example. Jamesons from Coleraine area, including a Jonathan Jameson, were in Londonderry New Hampshire from 1725 at least; family traditions and documents preserved in New Hampshire and now available on websites will probably enable worldwide descendants of Irish Jamesons to make connections. There is in America the 1741 will of the Jonathan or John Jameson who emigrated as part of the 1718 migration, which mentions a cousin in Dunboe, outside Coleraine. Because of links like this, an American Jameson was a couple of years ago able to contact a New Zealander great great granddaughter of another Jonathan Jamieson, who lived in Movanagher, Kilrea after 1800.
So, with the opportunity to catch public attention as we approach the tercentenary next year; what can be done to increase public awareness of our shared history. Obviously, people on both sides of the Atlantic are organising exciting events and projects, and we hope that visitors will come to join in the commemorations and conferences, but I would like to argue that suitably commemorating the events of three hundred years ago should focus attention in Ireland and in the United States on the pains of emigration, the amount of suffering, direct and indirect caused by departures on such a scale, not just in 1718. In my view, the best way to mark the tercentenary is to try to bridge the Atlantic, to re-connect families, to tell each half of each family what happened in subsequent generations to the other half.
Leonard Morrison, an important local and family historian of New Hampshire wrote in 1880, "the time is coming when the fact of being a descendant of the one of the first settlers of Londonderry will be considered an honour only second to being descended from one of the Pilgrim fathers". The tercentenary should be a chance to bring the contribution of these Ulster emigrants to much wider notice. It would be fascinating to be able to join a 1718 Society, somewhat like the Mayflower Society, which would permit descendants and relatives to get together for conferences, or virtually, to share information and spread the word about the early 18 th century contribution that Ulster made to New England and the whole continent. A 1718 Society would be a very lasting way to commemorate the anniversary; there will also be re-enactments, television documentaries, a book of essays. Ideally we would hope to bring people together, either virtually to discuss ancestry, or in reality, to experience the places that our ancestors and forebears left from or went to.
No comments posted...